Freein 10'6 Inflatable Stand Up Paddle Board Review (2021)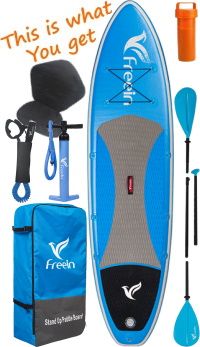 Freein 10'6 iSUP board is a decent quality true all-around on the cheap that also comes with a kayak conversion kit (kayak seat + extra blade for the paddle) which makes it one of a kind deal at such a price. Although the max paddler weight capacity is 341 lbs, a more realistic paddler weight would be up to around 280 pounds given the design (more if you used the kayak kit more often). It's got a warranty and the company stands behind this iSUP.
With this you don't have to buy the kayak seat and extra blade for extra cost, this cheaper iSUP package includes it all! So if you were looking for such a combination on the cheap, this is a very fine option.
You can check its price here: Freein 10'6 iSUP package.
A Quick Overview For The Hasty
The Freein 10'6 iSUP measures 10'6 x 31" x 6" (length x width x thickness). It has a max weight capacity of 341 pounds, weighs around 18 pounds, and comes with a kayak conversion kit but also everything else that you need to get on the water.
Freein 10'6 iSUP is an all-around. That means it's designed to be used in all types of water conditions, but mainly calmer waters and for recreational use. You can convert it into a seated hybrid kayak iSUP. The package comes with a kayak seat and an extra SUP blade which you can connect to the SUP paddle making it into a sort of kayak-like blade. It's also one of the best cheap iSUPs this year.
It has a solid double-layer PVC construction, and is plenty long (10'6) and wide (31) enough, making it suitable for even the larger than average sized paddlers on the cheap.
This particular iSUP comes in 2 different colors and 2 size variants: blue or white, and 10′ or 10'6 in length. The current review is based off of the blue 10'6-long version. Although the quality of the 10′ version is the same, it's slightly cheaper and less suitable for larger than average sized paddlers. Check with this SUP Buying Guide article to get your bearings.
Who And What Is the Freein 10'6 iSUP Designed For?
Who: all skill levels weighing less than 286 lbs.
What: as it's an all-around, anything, but mainly recreational paddling on calmer waters.
Given the length and width ratio of this iSUP (10'6 length, 31″ width), it can still pose problems for extra tall people, but it's still manageable as long as you don't weigh too much (up to 286 pounds). Smaller paddlers will feel more stable and longer glide, but worse maneuverability when compared to the 10′ version of this iSUP.
When it comes to SUP activities this Freein 10'6 iSUP can handle, it's decent enough for almost everything you can imagine to some extent as it's an all-around. Wholesome yoga might be a problem because it's a tad bit too narrow for that. Obviously you can't race nor full-on surf with it either, but you can still build up some speed and surf smaller waves. If you really wanted to do yoga or fishing with it, you could always buy the stabilizer to make it stable enough (check with this article on iSUP Accessories).

How Does the Freein 10'6 iSUP Perform?
Usually the length width ratio is more towards stability or speed, but this one is pretty much in the middle of it all. It's perhaps a little geared more towards maneuverability and speed rather than stability were you to stand most of your time on it. For a very tall person it would be less stable and for a very small paddler it would be more stable instead.
All in all, not too stable nor too wobbly, and tracks well enough, a.k.a "balanced".
It becomes plenty stable once you lower your center of gravity by sitting down on the kayak seat and using the converted kayak paddle instead.

What Are the Specifications of the Freein 10'6 iSUP Board?
Specifications of the Freein 10'6 iSUP Board:
Type: All-around
Color: blue or white
Construction: Inflatable
Length: 10'6
Width: 31"
Thickness: 6"
Weight: 18 lbs
Weight Capacity: 286 lbs
Materials: double-layer PVC
Type 
It's an all-around, suitable for all SUP activities in all water conditions to some extent, and comes with a kayak conversion kit which further expands its uses.
Colour 
You can choose between 2 colors: white or blue.
Construction
The Freein 10'6 iSUP board is inflatable. That means it's filled with air. The recommended max PSI is 15.
Length
The board is 10 feet 6 inches long which is not too short nor too long. Though a considerably taller person might still find it a little too wobbly.
Width
Freein 10'6 iSUP board is 31 inches wide. This too is neither too narrow nor too wide. For a considerably heavier paddler it might become a little too wobbly still.
Thickness
This board has a thickness of 6 inches. Thicker boards feel more sturdy and stable on the water. 6″ is fairly typical for iSUPs nowadays, but 5 inches would be ideal.
Weight
The board weighs just 18 pounds. The lightweight and portable design of the board makes it easier for you to carry it around.
Weight capacity
The Freein 10'6 iSUP With Kayak Conversion Kit can support up to 341 lbs. However, given the dimensions and design on the board, unless you were planning to sit on it for the most part, a more realistic max paddler weight for this board would be somewhere up to 280 pounds or so.
Materials
It is made of double-layer PVC material all around and not just at rails. This is a tad bit more solid construction than a single-layer would be. It's still not the best construction out there though, but for this price it's pretty good still.

What Is Freein 10'6 Inflatable Paddle Board Made of?
Freein 10'6 iSUP board is made of:
It's a fairly typical double layer construction with fancy words added to the mix. I haven't dared putting a knife in it yet, so going off of research alone, I'd say it's good enough for normal use (no hardcore whitewater nor surfing big waves and the like).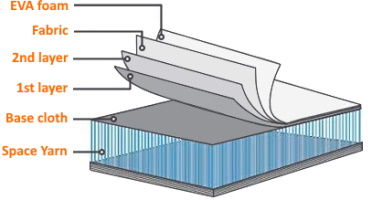 Drop stitch technology at the core held together by base cloth and 2 layers of PVC material laminated on top of that. There's an extra layer of fabric on top of that after which it's already the EVA foam deck pad covering part of the surface. The rails are decent in such a setup almost by default nowadays.
It's a decent construction for normal use. Here, have a quick read on the construction of inflatable paddle boards (link opens in a new tab).
What Are the Features of the Freein 10'6 iSUP Board?
Apart from 2 colors, the Freein 10'6 iSUP board features:
1 – bungee storage area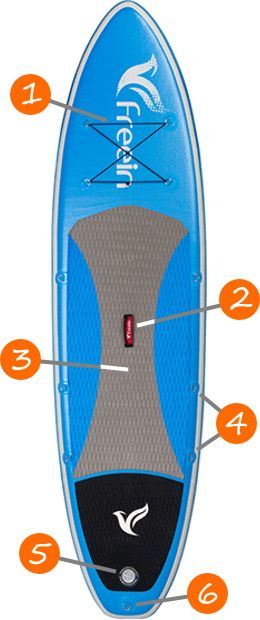 The board has a bungee storage area held together by 4 D-rings at the front end of the board under which you can store additional equipment were you to bring any along with you.
2 – carry handle
At the center of the board on the deck pad is a carry handle to, well, carry the board when it's inflated. It's generally not advised to drag the board on the ground, so that's why.
3 – deck pad 
Freein 10'6 iSUP have your typical EVA foam non-slip deck pad for you to stand on.
4 – D-rings (6)
Not just 4 but 6 D-rings at the sides of the board which allow you to choose the placement of the kayak seat which too is included with the purchase of this board package.
5 – valve
A high pressure inflation valve at the rear of the board. This is where you inflate the board using the pump. The recommended max PSI is 15 at which point it's super sturdy. Note that the repair kit should include a valve wrench with which you can tighten the valve in case it's come a little loose during transportation or whatever.
6 – D-ring (1)
Located at the very rear end of the board close to the valve is the final D-ring which can be used for attaching the ankle leash primarily, but also for towing or anchoring the board.
7 – fins
The Freein 10'6 iSUP board comes with three fins. The bigger central fin is removable while the two smaller side fins are not removable. The bigger fin helps with keeping the board glide straight (tracking) while the side fins help with maneuverability. If you removed the bigger center fin then you'd have extra maneuverability in for example shallower waters, rivers and the like.
What Else Is Included In the Freein 10'6 iSUP Board Package?
It's a complete package. Freein 10'6 iSUP includes all the items you need including the kayak conversion kit. Read this in case you wanted to expand your iSUP accessory arsenal.
Kayak seat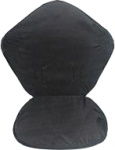 The package includes a kayak seat which you can attach to the D-rings on either side of the board. It's not the best kayak seat, but that might just be my bias as I'm way taller than average, so it doesn't fully support my back when sitting on it, but for average sized or smaller paddlers it'll likely be just fine.

Paddle 
It's a fairly generic paddle when it comes to quality: 3 piece adjustable floating aluminum paddle. However, the package comes with an additional blade which you can attach onto the paddle and thus convert it into a sort of hybrid kayak paddle. More info on SUP paddles and the like here.
Pump
Freein 10'6 iSUP board package comes with a fairly typical high pressure double action hand pump that has a pressure gauge on top. It's for inflating the board, but this you already knew most likely… Another thing is that the recommended maximum PSI for the board is 15. Just saying.
Backpack

Given the decent quality of the board, you guessed it, the accessory items are where the corners were cut. The board is provided with a travel backpack that can accommodate all the items along with the board inside it, but it's not of high quality itself (the backpack I mean).
Ankle leash
Another fairly generic and typical accessory item, a coiled leash. This essentially connects you to the board (rear D-ring) in a way that it won't let the board drift away from you were you to fall in the water while the wind was strong enough to push the board away faster than you could swim towards it. Have a read: SUP Safety.
Repair Kit
Freein 10'6 iSUP board package also comes with a repair kit. It's a cylinder tube in which you'll likely find a valve wrench and a couple of PVC patches with which you can repair holes in case you rammed into a needle (PVC glue might not be included).
So Is the Freein 10'6 iSUP Board For You?
As it's 10'6 long and 31 inches wide, it's a decent cheaper option even for the slightly heavier and taller paddlers (up to 280 pounds or so, max paddler weight capacity is 341 lbs), be you a beginner or experienced in this watersport. The main draw for this board package is the kayak conversion kit.
As it's an all-around, it's best suited for cruising calmer waters, but it can also be used for other SUP activities to some extent (fishing, some surf, river riding, etc). Full on racing and surfing might be out of the question, but you can still build some speed and surf smaller waves.
Why it might not be for you: if you were a very tall person then you should find a longer board, same goes for considerably heavier paddlers (in this case you need a wider board). It might not be suitable for yoga by default either, but if you got yourself SUP stabilizers for extra cost then even yoga becomes an option.
Best way to buy stand up paddle boards would be from physical shops. That way you could gain much needed info, advice and tips from the enthusiastic sellers there (assuming they were enthusiastic…).
If purchasing from a physical store was not an option, there are still online stores to check out.
Check the price or buy here: Freein 10'6 Inflatable SUP Package.
Conclusion
The Freein 10'6 iSUP paddle board is  a decent and cheap all-around that includes a kayak conversion kit. It can be used in all water conditions to some extent and by paddlers of all skill levels as long as you don't weigh too much over around 280 pounds.
Included accessories
Freein 10'6 iSUP package includes all the accessories you need to get started. That is SUP paddle with extra blade, kayak seat, double-action pump, backpack, ankle leash, and a repair kit.
Warranty
Freein stands behind their boards and will help you out in case of problems as they do have a warranty in place.
Where to Buy
It's simple, buy here: Freein 10'6 iSUP Package.
EXTRA READING
(Links open in a new tab)
The TOP 13 Best Inflatable Stand Up Paddle Boards in 2021 | post | sunsetpaddler
Best Cheap Inflatable Stand Up Paddle Boards in 2021 | post | sunsetpaddler
Exploring Inflatable SUP Accessories & Their Uses | post | sunsetpaddler
Pink Inflatable Stand Up Paddle Boards in 2021 | post | sunsetpaddler
Magnificent stand up paddle board Stickers | post | sunsetpaddler
How much do inflatable SUP boards cost? | post | sunsetpaddler
Is a cheap inflatable SUP worth it? | post | sunsetpaddler
How to choose a SUP paddle? | post | sunsetpaddler
iSUP care & maintenance | post | sunsetpaddler
SUP buying guide | post | sunsetpaddler
SUP boards list | post | sunsetpaddler
What is PVC? | post | sunsetpaddler
SUP safety | post | sunsetpaddler