GoPlus 6″ Thick Inflatable Stand Up Paddle Board Review (2021)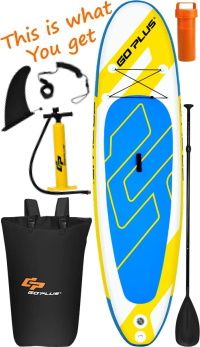 GoPlus 6″ Thick iSUP board is good enough of a cruising oriented entry-level all-around on the cheap suitable mainly for calmer waters as it's fairly generic quality wise. The max paddler weight is reported to be 330 pounds, but ideally I'd say it's less than or up to 265 lbs given the size (11-feet long, 30 inches wide) and design (rounded, narrow tail, 1 fin) of the board. Pump and backpack are the weakest link in this package, but still manageable.
It's looks nice by design though, and it's very cheap, so in that sense it's a good option if you were on a small budget and were fine with mainly cruising or even short distance touring rather than surfing, racing or riding harsher rivers and overall just more choppier waters.
You can check its price here: GoPlus 6″ Thick iSUP package.
A Quick Overview Of The Hasty
The GoPlus 6" Thick Inflatable SUP Board measures 11' x 30" x 6". It has a max weight capacity of 330 pounds, weighs 18.5 pounds, and comes with everything you need to get on the water.
To be honest, the GoPlus 6" Thick iSUP is not among the best low-cost inflatable paddle board packages out there, but can still serve the purpose and it is very, very cheap, so with that it squeezes into the list still. It's an all-around suitable mainly for cruising calmer waters. What's decent in this package is the board itself because the accessories are fairly generic. This one can handle even the taller paddlers as it's 11′ long. Check with this SUP Buying Guide to get a better understanding of those things.
As was mentioned, it's the accessories that are fairly low quality in the package and probably the reason for the low price, but for some occasional recreational paddling they're fine. It's an entry-level all-around on the cheap after all. The accessories include an adjustable aluminium paddle, backpack, pump, fin, ankle leash, and a repair kit. You can always explore additional iSUP accessories for when you felt like you were missing something, or heck, find another board entirely as there are plenty around.
It's available in 3 colors: yellow, blue and green.
Who And What Is the GoPlus 6″ Thick iSUP Designed For?
Who: beginners ideally weighing up to 265 lbs (max 330 lbs);
What: all-around (cruising, short distance touring, fishing, etc), mainly calmer waters.
Since the GoPlus 6" Thick iSUP is 11′ long and 30 inches wide, it can handle even a bigger (taller, heavier) than average paddler, say up to 265 pounds and more if you didn't mind challenging yourself at the beginning as you learn to balance.
However, if you were taller than average and at the same time heavier, you may want to find a wider board. Then again, if you looked past the initial hardships, the positive thing over time is that you'd likely lose weight as you struggle more to keep balance and eventually turn into a good fit for the board anyway.
It's first and foremost a cruising oriented all-around. That means it's a jack of all trades and master of none, meaning, again, that it's suitable for all SUP activities and water conditions to some extent. Primarily for cruising on calmer waters and not so much for all-out racing, surfing big waves nor for unforgiving whitewater river riding.

How Does the GoPlus 6" Thick iSUP Perform?
GoPlus 6″ Thick iSUP has mainly:
It would be wrong for me to say that it's not maneuverable because it is plenty maneuverable due to the narrowing rounded tail. It only has 1 bigger fin which helps with tracking, but not so much with maneuvering (2 smaller side fins, which this GoPlus 6″ Thick iSUP doesn't have, would help with maneuvering more). Again, it's still plenty maneuverable in calmer waters.
What it does have is speed given the length / width ratio (11′ / 30″). The bigger fin helps with tracking, keeps the board going straight (that in calmer water condition) and the length would allow you to build up more speed as the narrow design creates less water resistance than a wider board would. That said, if you kept on paddling and going forward, it would improve stability to a point where the 30-inch width wouldn't be so much a problem even for the bigger paddlers.
The weakest part of this GoPlus 6″ Thick iSUP would be stability, but that only if you weren't in motion, were standing still. As was mentioned earlier, if you managed to build up some speed and maintain it, stability wouldn't be that much of a problem even if you were a bigger paddler.
Given all that's been said, if you were hell-bent on trying out yoga on this, I'd recommend you use one of the additional iSUP accessories called SUP stabilizer (not included in the package) which can make any SUP board super stable (good for yoga, fishing, etc).

What Are the Specifications of the GoPlus 6" Thick Inflatable SUP Board?
Specifications of the GoPlus 6" Thick iSUP:
Type: cruising oriented all-around
Color: yellow, blue, and green
Construction: Inflatable
Length: 11'
Width: 30"
Thickness: 6"
Weight: 18.5 lbs
Weight Capacity: 330 lbs
Materials: drop-stitch core, pvc
Type
This is a cruising oriented all-around best suited for calmer waters. It's due to a combination of overall lower quality (compared to high-end iSUP) and design.
Colour
You can get the GoPlus 6" Thick iSUP in three different colors: yellow, green and blue.
Construction
It's an inflatable. That means it's filled with air, pretty much. Although in essence it's a floating balloon, it's super sturdy. The recommended max PSI 15, but if you manage to get it between 12 and 14 then that's fine too.
Length
GoPlus 6″ Thick iSUP board is 11 feet long. Given it's length, it can be used even by the taller paddlers.
Width
It has a width of 30 inch which is not wide enough to make the ride comfortably stable for a heavy paddler, albeit the extra length (11′) improves the stability even for them, hence the recommended weight capacity of up to 265 lbs out of the max of 330 pounds. Had it been 32 inches wide, it would make it stable enough for considerably heavier paddlers.
Thickness
GoPlus 6" Thick iSUP is 6 inches thick which is fairly common among most iSUPs on the market. Thickness helps with making it feel way more rigid and help with stability also.
Weight
At just 18.5 pounds of weight the board feels relatively lightweight, all things considered.
Weight Capacity
The GoPlus 6" Thick iSup comes with a weight capacity of 330 pounds. But more realistically I'd say the max paddler weight capacity would be up to around 265 pounds.
Materials
It's got a V shaped drop-stitch threads at the core held together and surrounded by tarpaulin material around which is 1 PVC layer on top of which is the EVA foam deck pad. There are 2 PVC layers at the rails though. It's a fairly standard construction overall.

What Is GoPlus 6″ Thick Inflatable Paddle Board Made of?
GoPlus 6″ Thick iSUP board is made of:
single layer PVC

double layer PVC at rails
It's got a drop-stitch core (V pattern) surrounded by tarpaulin which is turn is surrounded by 1 PVC layer along with EVA foam deck pad at the very top. At the rails there are 2 layers of PVC tape.
It's a fairly standard build for entry-level cheap boards, not the highest quality, but decent enough for casual use (not so much for all-out surfing, whitewater river riding nor racing and the like). Cruising, short distance touring, fishing, yoga, etc. They seem to be fully aware of that themselves since they've only equipped the board with 1 single bigger fin and not with the additional 2 side fins which would enhance maneuverability and open up more extreme uses where maneuverability is the key (surfing, whitewater, etc).
It's a good enough construction for casual use. Here, have a quick read on the construction of inflatable paddle boards (link opens in a new tab).
What Are the Features of the GoPlus 6" Thick iSUP?
Apart from the 3 colors (yellow, blue, green), the GoPlus 6″ Thick Inflatable SUP Board features:
1 – bungee storage area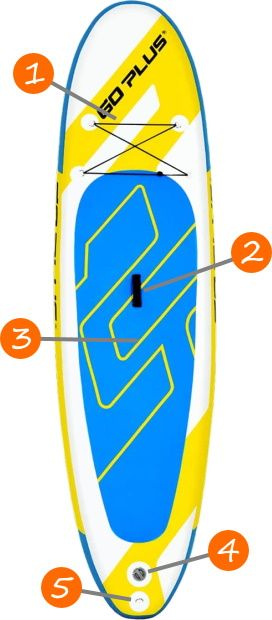 You will find 4-point mounted cargo storage area (bungee cord connected to 4 D-rings), located at the nose of the board. You can store equipment under it (spare clothes, the backpack, etc).
2 – carry handle
Located at the middle of the board is a carry handle for, well, carrying the board (it's not advised to drag the board on the ground). It's made of nylon. Petite women might find it a little uncomfortable, but that's either something you're gonna have to deal with or buy a SUP carry strap for extra cost to make things easier.
3 – deck pad
The deck pad made of a soft non-slip EVA foam material to help keep your balance when standing on it. It has a texture with striped grooves.
4 – valve
GoPlus 6″ Thick iSUP has a high pressure inflation valve located at the rear of the board. This is where you inflate the board. The recommended max PSI is 15, but getting it to between 12 to 14 PSI is fine too.
5 – D-Ring (1)
There's 1 D-ring at the rear of the board close to the valve. It's mostly used for attaching an ankle leash to it, but also for towing or anchoring the board.
6 – fin (1)
The board comes with just one bigger fin which is not super large and is made of plastic. It makes the board track decently enough.
What Else Is Included In the GoPlus 6" Thick iSUP Package?
The Goplus 6″ Thick Inflatable Stand Up Paddle Board is a complete package. It is provided with everything you need to get on the water.
Paddle
You'll get an adjustable (68″ to 87″) floating aluminium SUP paddle which fits in the backpack. Aluminium SUP paddle is generally entry-level and low cost mainly for general recreational use. Here's some more info on SUP paddles I'd like you to quickly skim through.
Pump
Probably the weakest link in the whole package, a simple manual air pump. At least it's got the pressure gauge on top. And by the way, the pressure gauge will likely start showing the PSI once you reach around 7 PSI (it's not borked, so try not to get frustrated for no reason when it doesn't show anything initially). The recommended max PSI is 15, but it's fine if you only get things to somewhere between 12 and 14. The only positive about this pump is that it's probably the smallest SUP pump I've ever seen, compact, and therefore, you can easily fit it in your backpack as well.
Backpack
GoPlus 6″ Thick iSUP comes with a fairly generic (but different) backpack bag to hold the entire iSUP package. As the quality of the backpack isn't that impressive, use it with more care for it to last longer.
Ankle Leash
A pretty typical simple coiled ankle leash is also included with the package. This will prevent you from getting separated from your board were you to fall off the board and, for example, the wind was strong enough to push the board away from you faster than you can swim. Quickly skim through this SUP Safety article (or don't, but I've personally never met an immortal person before…).
Repair Kit
You are also provided with a repair kit (plastic orange cylinder container) that consists of the valve wrench and a few PVC patches (PVC glue / adhesive might not be included). Make sure you tighten the valve seal with the valve wrench from time to time as the valve can come loose a bit over time as it's being handled during shipment or storage, and so on. I'm saying that because often times people think their SUP is broken and leaking air while it might have just been a little loose valve seal.
Manual Guide
The Goplus 6″ Thick iSUP Board package also has a manual guide that will help you understand the basics that are to do with the board.
So Is the GoPlus 6" Thick iSUP Package For You?
GoPlus 6″ Thick Stand Up Paddle Board is a pretty generic entry-level inflatable all-around that is made to be used mainly in flat water conditions in a fairly casual & calm manner (cruising, short distance touring, fishing, some yoga, etc). This board is suitable for anyone weighing up to 265 pounds while not ruling out taller paddlers.
Why it might not be for you: if you were looking for a paddle board for the more extreme areas of SUP (whitewater, surf, etc) then it might not be decent enough. Additionally, customer support is lackluster, pump and carry bag are a bit questionable, but they do work, they're just of lower quality so you ought to handle them with more carefully.
Best way to buy stand up paddle boards would be from physical shops. That way you could gain much needed info, advice and tips from the enthusiastic sellers there (assuming they were enthusiastic…).
If purchasing from a physical store was not an option, there are still online stores to check out.
Check the price or buy here: GoPlus 6″ Thick Inflatable SUP Package.
Conclusion
The Goplus 11′ iSUP Board package includes everything you need except a life jacket. A fairly generic entry-level board package aimed at beginners. It can easily support more than your average-sized paddler. This board is made for mainly flatwater conditions.
Included accessories
The board comes with all the equipment you need to get on the water. Along with the board, you get an adjustable paddle, pump, carry backpack, ankle leash, repair kit, and a manual guide.
Warranty
The Goplus 11' iSUP paddleboard doesn't have a proper warranty nor customer support.
Where to Buy
It's simple, buy here: GoPlus 6″ Thick iSUP Package.
EXTRA READING
(Links open in a new tab)
The TOP 13 Best Inflatable Stand Up Paddle Boards in 2021 | post | sunsetpaddler
Best Cheap Inflatable Stand Up Paddle Boards in 2021 | post | sunsetpaddler
Exploring Inflatable SUP Accessories & Their Uses | post | sunsetpaddler
Pink Inflatable Stand Up Paddle Boards in 2021 | post | sunsetpaddler
Magnificent stand up paddle board Stickers | post | sunsetpaddler
How much do inflatable SUP boards cost? | post | sunsetpaddler
Is a cheap inflatable SUP worth it? | post | sunsetpaddler
How to choose a SUP paddle? | post | sunsetpaddler
iSUP care & maintenance | post | sunsetpaddler
SUP buying guide | post | sunsetpaddler
SUP boards list | post | sunsetpaddler
What is PVC? | post | sunsetpaddler
SUP safety | post | sunsetpaddler